Winter VS Your Attic
Each year the winter season gets more and more stormy, and all we want to do is take cover in the safety of our cozy home. But not all homes are cozy this winter, as many suffer from unsealed attics, which allow cold winds, water and even rodents to get through it and into the house. In addition to cleaning air ducts, our team also specializes in sealing, rodent proofing, and decontaminating attics. Read more about it here below!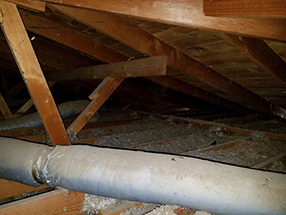 Attic Insulation Removal
If the attic insulation at your home is not intact, hasn't been installed properly, or if it's worn-out, it is necessary to first remove it before installing a new one. That way we can ensure the intactness of the new layer and its effectivity. After removing all previously used materials, our team will carefully dispose of any debris and leftovers, which may be infected with mold and bacteria.
Rodent Proofing
Our team will inspect your attic for rodents, bacteria and microbes left by your old insulation, and will clean and sanitize the infected areas to ensure your home is safe and free of those disease-causing trouble makers.
Attic Cleaning & Decontamination
Even if your attic is not infected by pests but it was still unsealed, it is very important to make sure the whole area is clean and hazard-free, which is exactly what we will do as part of our attic decontamination service. Have a crawl-space that needs to be checked? Let us do the hard work for you!
Radiant Barrier
During winter, we all try to keep our home warm and comfortable, each to the best of their ability. An unsealed attic may cause the warm air to escape through the openings while your house's air conditioning system will struggle to keep the premises warm. This usually results in higher energy consumption and unreasonable electric bills. Our radiant barrier service that controls the conduction of heat from and to your house, can ensure it's protected against that problem.
Let Us Help!
We want to make sure your home is ready for both winter and summertime, and our insulation services and solutions are designed just for that! Let us know how we can help by contacting us online of scheduling your appointment today!